5 things to try on our new website
Published on November 27, 2022
It's been a long time coming – our new website is live and we're thrilled to finally share it with you! It's bringing together all the elements of our new brand in a beautiful digital design by Alfonso Rivas.
Our goal for the new website was not just to create something that looks beautiful, but also is highly functional both for new as well as existing Testable users. We've put the highlights of our new website together below so you can explore how you might use some of the new areas we've built for you.
1) Start working on experiments straight from our landing page
And the best part: you don't even need an account to get started. You can select form a wide range of curated templates, ordered by research area, and start editing right away. You can also kickstart any experiment using our "universal template" – just describe the experiment using our natural language form and Testable does the rest. Once you're happy with the experiment, you'll then need to make an account to save it and start collecting data, but it will only take a minute. Starting your behavioural research project has never been easier (or quicker!).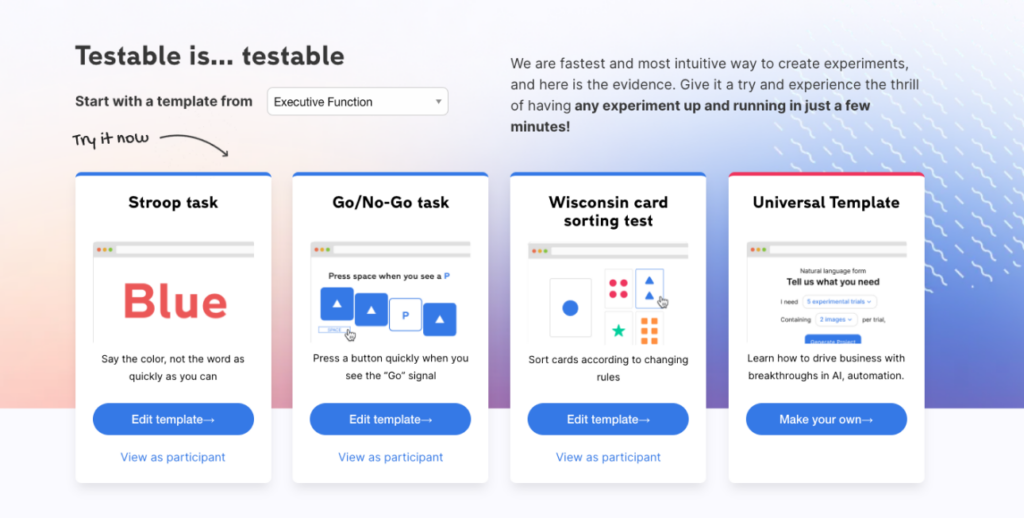 2) Budget calculator for Testable Minds
Our academic participant pool Testable Minds is the best place to collect data from reliable and diverse participants and obtain best-in-class results data (check out the data quality comparison study we've run). Although our pricing model is straightforward, it might sometimes be tricky to figure out the exact costs for your next project. To make this super easy now, we've added an interactive study costs calculator that helps you calculate the exact budget you need for your next project. Just specify how many participants you need, how long your study will be and the type of participants you are looking for and and you'll get a breakdown of the budget you need and the associated fees.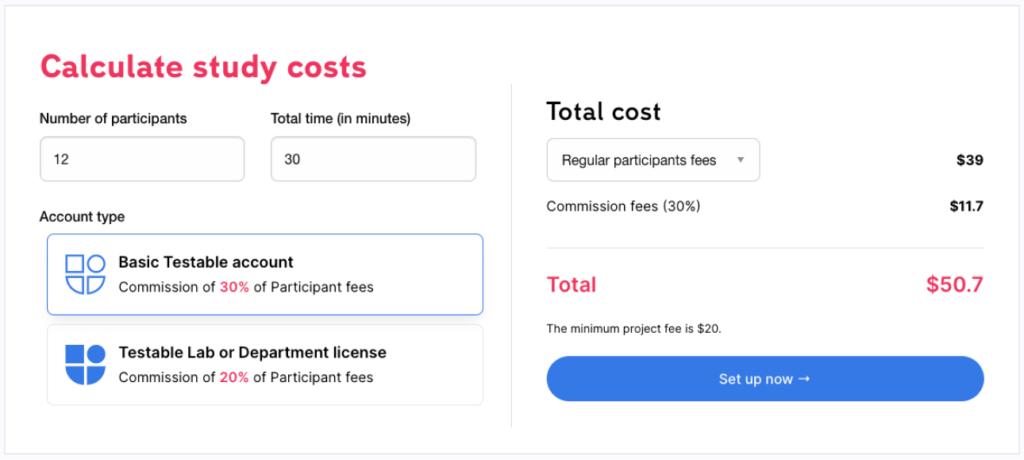 3) Our new Trust Center – resources for due diligence and GDPR questions
The privacy and security of your data is very important to us. Especially in the field of Psychology, we are handling rich data from a large number of people, both researchers and participants. We want to make sure that you can conduct your research on Testable with confidence and made it easier for you and due diligence teams in your research departments to get all information they need from us to get started. Our new trust center is a collection of all important due diligence information, starting with basic company details, our terms of use, privacy policy all the way to a detailed list of data sub-processors and a range of FAQs. This area is a work in progress as we are adding resources to it to make it even more useful over time. If you have ideas about the kind of information that would be useful to you that is not here yet, please feel free to get in touch and let us know! You can find the new trust center here.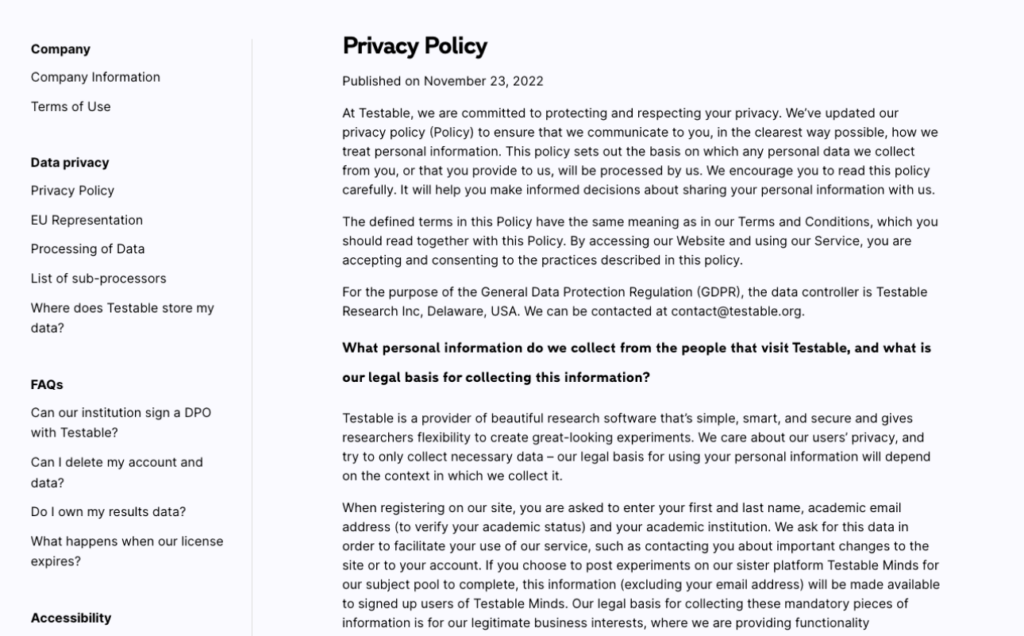 4) A new home for all our content
Our blog will be the best place to learn about Psychology experiments and behavioural research as well as keep up to date with what is happening in and around Testable. All of our step-by-step guides now have their dedicated section called "Experiment guides". Additionally, we're introducing two new sections "News" where we updated you with the latest (like this article) and "Insights" which will be a new section with articles that will help you navigate the world of online research above and beyond the experiment-specific understanding that is conveyed in our guides.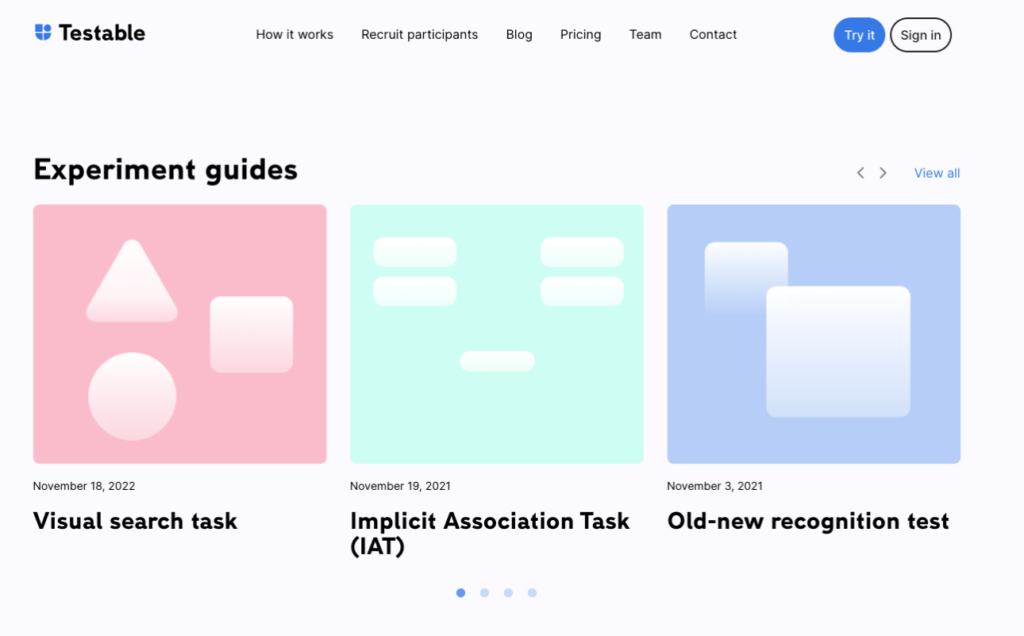 5) Get in touch – 3 different ways
We're always happy to hear from our users, aspiring, new and existing. But we want to make sure you get to talk with the member of our team best suited to help you and in the best possible way. If you're interested in Testable or have any questions, you can use our new contact form and get in touch. If you're interested in rolling out Testable in your organisation, you can easily book a call with our sales team. And if you're already using Testable and have any questions, then you'll have an option to directly get in touch with our support team. Come and say hi!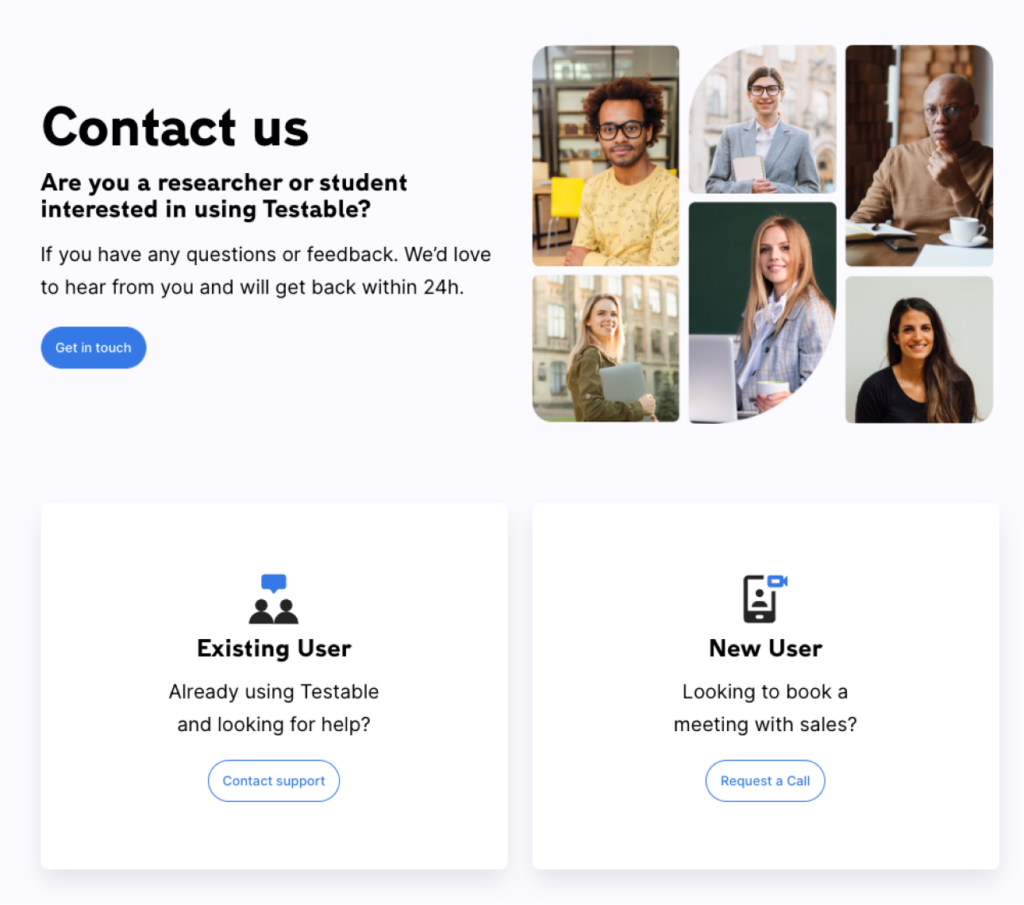 Happy perusal!